Today we analyze the Tecnifibre Wall Breaker 375, a racquet for players who want to attacking, aggressive play and ball delivery.
Resistance
The most striking feature of the Wall Breaker 375 is its use of the X-Top technology in the frame of the blade. It is a blend of aramid fibers, which are very common in space and military applications.
In addition, this layer is coated with a non-stick PTFE treatment that limits abrasion of the frame when we hit the glass, the ground or our partner's shovel. This makes the Wall Breaker 375 a very resistant model.
Player type
This Tecnifibre is designed to meet the expectations of the advanced level player. In it we find a teardrop shape and high balance to make it easier to define points by means of attacking blows.
The Wall Master has a weight 375 grams which makes it a real weapon every time we play aerial shots. This weight, on the other hand, requires the player to have a very refined technique when executing control or defensive shots.
It is necessary to emphasize another of its characteristics, the sweet spot. Thanks to the PHD hole pattern with three different diametersthe face of the blade allows maximum precision in the center and more tolerance on off-center hits.
Technical characteristics
The shovel is constructed of TEI carbon fiberThe new, more durable and durable, it maximizes shock absorption for a greater sensation. In it we will notice a hard touch and somewhat dry thanks also to the aluminizing used on the faces.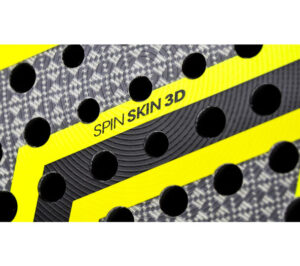 The face of the blade is coated with a relieve Spin Skin 3D, i.e. a rough 3D type, to enhance the effects. The bridge incorporates a horizontal piece in the middle which they call D-Bridge to reduce vibrations and increase the balance of the Wall Breaker.
Track review
This model is the one used by A1Padel's professional player. Gonzalo Alfonsothe inventor of the hit that recently went viral, "La tontona". He tells us what he likes about Tecnifibre and some technical details to favor his game.
Remember that you can find out more about the Wall Breaker on Tecnifibre's official website, and if you want to buy the racket you just have to click here.
¡Follow AnalistasPadel and don't miss any news about the world of padel!